"Enough About You" by Mehnaz Sahibzada
Enough About You

I drift beside you
in my gray coat, thinking
gray thoughts, down a street
clouded by sunlight.
I listen without blinking.
Plot songs, sing plot twists
while you talk,
my tongue baking
suicides.
You say,
What if this
whole city leaned
on eggshells? No
nightingales, just pulses.
No ears, just voices.
Each day a wave
of romantic complications?
I dream the backbone
of a bear, the mouth
of a snake.
But I won't fault myself
for cracking. I
haunt my thoughts
like a ghost. Feel
invaded when you state
your self-absorbed questions.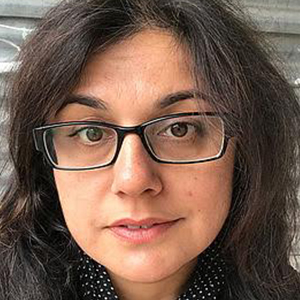 Mehnaz Sahibzada was born in Pakistan and raised in Los Angeles. She holds an MA in Religious Studies from UC Santa Barbara, and she is a 2009 PEN USA Emerging Voices Fellow in Poetry. Her short story, "The Alphabet Workbook," appeared in the August 2010 issue of Ellery Queen Mystery Magazine. Her poetry chapbook, Tongue-Tied: A Memoir in Poems, was published in 2012 by Finishing Line Press, and her second chapbook, Summer Forgets to Wear a Petticoat, was also published by Finishing Line Press in 2016. Her work has appeared in publications such as Asia Writes, The Rattling Wall, and Pedestal Magazine. An English teacher, she lives in southern California. To learn more about Mehnaz, visit her at www.poetmehnaz.com .