"Embouchure" by Laura Cherry
Embouchure

Taut upper and split lower lip,
full and fat as a waterskin,
pressed to that mouthpiece or folded in to hide
the appearance of desire.
Lips open like a stormcloud.
Closed like a Saturday church.
Twin stars on the way to hyperdrive.
Gold coins at the spot marked X.
The two ripe fruits at the start of things:
one famously eaten, one
left shining on another tree,
never to be tasted in this world.
Gabriel prepping for his big announcement.
The breath. The pressure. The aperture.
The tongue arch. The pivot. The buzz.
The ChapStick in his robe pocket.
Onstage with the band, trumpet at rest,
smiling and waiting for a solo,
the same lips that answer the phone
and, if I ask, will play at any time
a private fanfare.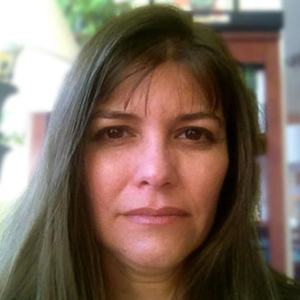 Laura Cherry is the author of the collection Haunts (Cooper Dillon Books) and the chapbooks Two White Beds (Minerva Rising) and What We Planted (Providence Athenaeum). She co-edited the anthology Poem, Revised (Marion Street Press). Her work has been published or is forthcoming in journals, including Hartskill Review, Antiphon, Los Angeles Review, Cider Press Review, Tuesday; An Art Project, and H_NGM_N.
Photo Credit: Emma Wollenweber