"Love Song for the Last of the Tall Trees" by Lena Khalaf Tuffaha
Love Song for the Last of the Tall Trees
أحن الأشجار
— for SFK, who probably knew but did not see what happened

At her house nightmares were cured with water
in a silver bowl swirling around the throne verse, circling the spines
of Allah's letters; upright, attendant, resting on a breath,
and with her hands, circling the crowns of children's
heads, smothering the djinn of tumultuous nights, the names
of God intoned in whispers and woven through our curls.
On her table, sweet loaves like young sparrows
with folded wings, arranged in rounds and cradling
spoonfuls of eshta, dreams of snow to greet what's new;
khayr for the year or the child arrived, for milk teeth
falling away or journey's ending in return.
Small mounds of eshta and the perfumed dust of Aleppan pistachios
from her garden, from the branches that carried us,
weathered arms that spread their shade
over our doorstep. Fortress of fire ants, flag of
her childhood, tree that claimed us with clot-thick sap
the leaves of our days veined, curling. In her
words, the sighs of cities barricaded for years, still dressing in brocade,
still perfuming their wrists for guests, cities swirling
their damp prayers, staving off the dust of drought
and watchtowers. In her stories, a tray of sweetness — everything,
even the bitter fruits of winter, sugared, candied.
And in her stories the dulcet sounds of a girl's footsteps marching
the streets, swirl of revolution to cast out the gendarmes,
the sounds of a homeland circling its people.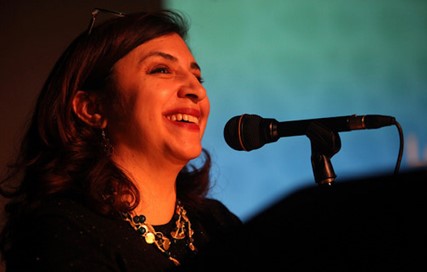 Lena Khalaf Tuffaha is poet, essayist, and translator. Her first book, Water & Salt (Red Hen Press), won the 2018 Washington State Book Award. Her chapbook, Arab in Newsland, won the 2016 Two Sylvias Press Prize. Her work has been published in journals that include Alaska Quarterly Review, Barrow Street, Kenyon Review Online, Michigan Quarterly Review, New England Review, Poetry Northwest, and the Academy of American Poets "Poem-A-Day" feature. She holds an MFA from the Rainier Writing Workshop at Pacific Lutheran University. She lives in Redmond, Washington.
Headshot: Houssam Mcheimich